Jim is an amazing father and husband.
He is the most selfless person I have ever known.
He is a very giving man who is always thinking of and doing things for others, while never thinking of himself. When he was young he served his country (as a Marine) and now he works tirelessly making sure to provide for everyones needs. He is completely "other" centered, which is so rare!
He is father to Joshua and Matthew, who both are handicapped each having mixed Cerebral Palsy. He is also father to my two daughters. He loves all of our kids unconditionally and he would die for them. He is an amazing example of how we all should live.
Although this is not a life or death situation or anything urgent, Jim is so very deserving of having something extra special done for him! Having "others" come together for him in support of this endeavor would be such an amazing blessing!
It is my hope and prayer that with your help, we can do something extra special for this extraordinary man! I have created a fundraising campaign with Go Fund Me in hopes of accomplishing this goal.
My name is Diana and I am his wife. I am unable to work outside of the home because I have Fibromyalgia and CFS. I have my blog which allows me to make a few dollars each month, but it's nowhere near enough to do something big for him. He is so supportive of me and all I go through always showing his selflessness by helping and serving me in any way he can.
Our home was built in 2010 (almost four years ago), but we still have dirt and mud for a backyard. With your help,
I would like to surprise him with a finished yard where he can hang out, relax and cook up some mean barbecue!
Below are pictures of the yard as it currently sits... with a few veggies growing on the side, but otherwise mostly unused. On rare occasion we step out to our tiny piece of green astroturf (under the barbecue) and make ourselves dinner. Hopefully we will be able to change that.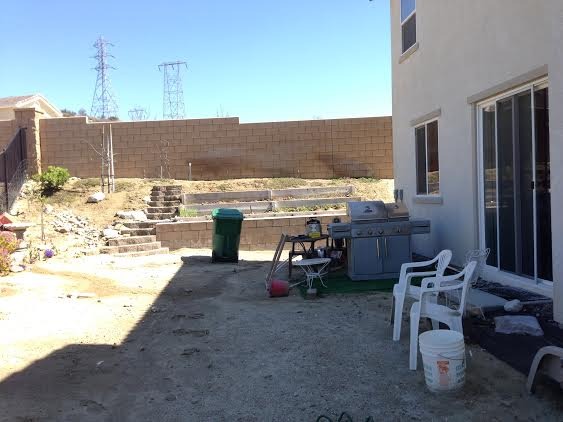 I have gotten estimates for a nice size patio across the rear and a walkway down the side yard. The estimates which include the concrete work and adding proper drainage range from $6000 to $8000. Ideally we would also be able to add a little landscaping, get comfortable patio furniture and give him a new barbecue (as the old Walmart cheap one is rusting out).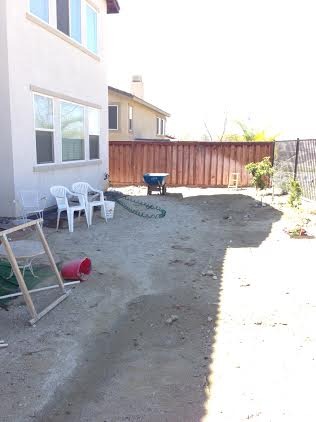 I don't normally (pretty much never) ask for help... however unless Yard Crashers were to show up at our door (which is extremely unlikely) this is the only way I can think to accomplish doing this for him.
The links below will take you to Go Fund Me where you can read about and donate to the campaign. No amount is too small!
Another way you can help is to share this with your family and friends.
Thank you and God bless!